Inquisitive little learners will love presents that will challenge their minds, as well as, allow them to experiment and discover how things work. Presents that both educate and entertain will be popular with preschoolers. Here are ten great gift ideas for curious toddlers.
10 Gift Ideas for Toddlers
1. Puppets
Puppets give children the opportunity to study and learn about life and relationships with a make-believe friend. Providing alternative ways to explore types of feelings, acceptable behaviors, and social interactions, curious toddlers can easily relate to soft and furry puppets of all kinds, including finger puppets, hand puppets, and puppet mitts.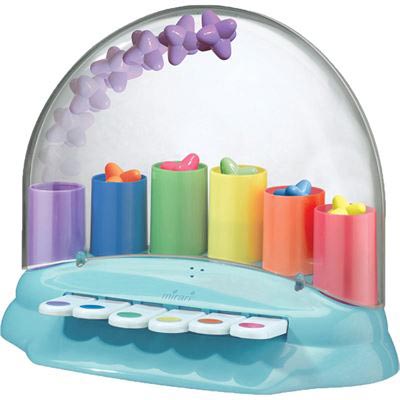 2. Musical Instruments
A variety of musical instruments can be a great gift for curious toddlers as they allow children to experiment with different sounds. Young learners will love playing and exploring an assortment of noise makers such as a colorful xylophone or pop piano that will assist in the discovery of sound and movement.
3. Play Phone
In today's world, cell phones are everywhere. Giving the gift of a play phone helps children explore a real life product with lights, music, and rings that are similar to actual phones. It's a must-have for any curious learner.
4. Soft Toys
Soft toys help interested young minds build and investigate a variety of objects and items. From exploring the world of farming to creating giant building block structures, soft play toys are great ideas for a curious toddler.
5. Nesting Blocks
Nesting and stacking blocks provide hours of shape sorting fun, as well as, encouragement for little learners to continue exploring and discovering colors, patterns, and shapes. Building up and then crashing down, stacking blocks are a simple, yet wonderful, idea for a gift for an inquisitive young mind.
6. Track Set
From cars to trains, track sets are an amazing gift for early investigators to discover movement and gravity while learning about cause and effect relationships. In addition, track sets provide an opportunity to increase socialization and communication skills as children play with one another. A super blocks track set is a wonderful gift idea for a curious toddler.
7. Ride-On
Help get inquiring minds and bodies moving with the gift of a ride on toy. From foot to floor fire trucks to tiny trikes, early learners can explore and discover the freedom of movement as they ride around inside the classroom or outside in the school yard.
8. Play Boat
The Buccaneer Boat is a great present for curious kids. Encouraging imagination, active play and socialization, everyone will have a wonderful time exploring this boat that allows for a multitude of pretend play situations.
9. Play House
Spice up dramatic play with the addition of a Country Estate. Set up inside or outside, this is a great gift for an only child or multiple children to explore and learn through make-believe and fantasy.
10. Hopping Ball
Introduce curious little learners with a fun way to get around with the Hop 45. Promoting physical exercise through practice with coordination and balance, there is a lot to be discovered during playtime with this fun hopping ball.