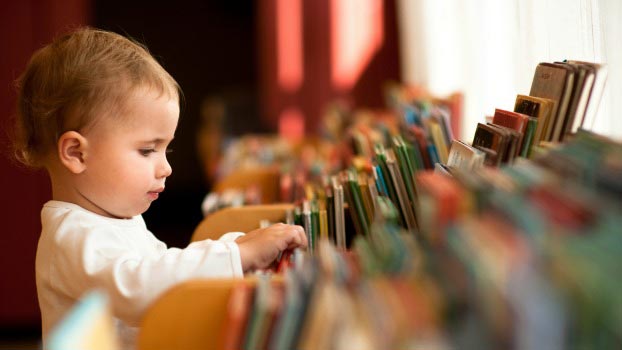 A functional and organized library is essential for every preschool center. Having a place where children can discover and explore all types of books fosters both independent and group learning. By creating a warm and inviting reading area, preschoolers are more likely to take advantage of the classroom library.
 Setting Up the Preschool Classroom Library
Designing a fun and kid-friendly archive of reading materials should start with choosing the best space for this type of learning. It should be a comfortable area that is easily accessible and serves as a good place for quiet time.   A cozy corner or window nook is a great place to set up a library or reading space.
Take full advantage of the area by making use of every inch of space from floor to ceiling. Begin by laying out an inviting area rug for kids to relax on.   Have beanbag chairs and floor cushions or mats stacked up when not in use, but made easily available for a variety of seating options. Furnish the area with low bookshelves allowing preschoolers full access to their contents. Stock shelves with bins to organize books and reading accessories. Embellish walls with photos, book ideas, and other library décor. Make use of the ceiling by hanging a canopy, suspended storage or maybe curtains as a room divider.
With the classroom library now furnished, it's time to organize the contents of the reading area. With books being the most crucial and main component of the library, children need them displayed in a fashion that will attract their attention. There are several kid-friendly ways that books can be organized. By dividing books up into different groups, children will have an easy time picking out a good read. Some category ideas include:
            Author or Series – Dr. Seuss or Winnie the Pooh
            Type – Nursery Rhymes or Fairy Tales
            Content – Numbers or Alphabet
            Magazines
            Audio-books
            Picture-books
Once classifications have been established, keep books separated by using a bin or a basket for each category. Mark the storage bin and books that belong in that particular basket with coordinating labels. This will help children learn how the books are arranged and where to put them back when they are done. Using pictures or colors to label is a great system to teach preschoolers about organization.
The classroom library should have reading accessories available, as well. A selection of bookmarks, book lights, and lap desks will enable children to excel in their reading adventures. Having these items on hand in a variety of styles and colors will attract early learners and keep them interested.
Before allowing the children to explore their new reading area, go over acceptable behaviors while in the space. A few guidelines for the classroom library should entail such things as listening to the teacher, reading and talking quietly, respecting others, and caring for the books and other school property. By helping preschoolers understand the rules of the library, everyone can make the most of the new reading space.
What do you include in your preschool library? Share your must-haves with us below!