On the second Wednesday of every month at 9pm EST, Really Good Stuff hosts #TeachChat, an education-related Twitter chat.  With recent changes to Twitter's format there have been some disruptions to the platform that is usually recommended to follow along and participate.  Keeping that in mind, we wanted to share with you a few other ways that you can join a Twitter chat and participate with us during #TeachChat.
General Tips for Joining the #TeachChat Twitter Chat

Decide which platform you are going to use and test it out ahead of time.  If you would like us to help you, we are more than happy to do so.  Either send us a message on Twitter (@ReallyGoodStuff) or leave a message on our Facebook wall.  We get very busy during the half-hour before #TeachChat starts, so it is best to contact us for help early on.
Follow us @ReallyGoodStuff so that you can send us DMs (Direct Messages) if you need help or have a question you do not want everyone to see.
Make sure your tweets are not protected.  If they are, we will not be able to see them.
Always include the hashtag #TeachChat in your tweet somewhere so that it shows up in the conversation feed.
Don't worry about missing information.  We publish the transcript the morning after each chat on The Teachers' Lounge.
Platforms You May Want to Consider Using for a Twitter Chat

Option #1:  Twitter.com
It may seem obvious that Twitter.com is one of the ways that you can follow along and participate in #TeachChat since it is, after all, a Twitter chat.  However, Twitter.com itself is not always the easiest to use to follow a chat.  If you want to go this route, here is how to do it:
Step 1:  Sign-in to Twitter.com.
Step 2:  Make sure your tweets are "public" and not "protected."*  This can be found in Settings under the drop down menu under the gear symbol in the top right corner of your personal page.
*If your tweets are protected, they will not show up in the chat and no one will know that you're there.
Step 3:  In the top grey search box type in #TeachChat.  A stream of tweets using the hashtag will appear.  Click "ALL" next to where it says Tweets.
Step 4:  To join in the conversation, click on the blue box in the top right corner and type your message.  Be sure to include the hashtag #TeachChat though!  No hashtag = No showing up in the chat.
Hints:  Please note that you may need to refresh the page frequently because it does not always update on its own or quickly.  This is one of the major drawbacks to using Twitter.com as an option.
Option #2:  Hootsuite.com
Hootsuite.com is generally reliable, but it has been glitchy as of late, so if it's not working well for you just switch platforms.  You will need to sign-up for a free Hootsuite account and give the platform access to your Twitter account feed.  Once you have an account, follow the steps below.
Step 1:  Sign-in to Hootsuite.
Step 2:  Click on the magnifying lens icon in the top right corner and type in #TeachChat in the search box.  The stream of #TeachChat tweets will appear.
Step 3:  Click "Save as Stream" in the bottom right corner of that pop-up box.  A new column will be added to your dashboard.  If you already have a bunch of columns, you may need to scroll to the right to find the new #TeachChat column.
Step 4:  To participate, type your tweet in the text box in the top left corner, click on your Twitter icon, and click "Send Now."  Again, don't forget to add #TeachChat to your tweet so that it shows up.
Hints:  If you need or want to refresh the column, click on the little circle arrow.  When you hover over a tweet, icons will pop up to the right of the name so that you can Reply, Retweet, or Send a DM (Direct Message).  There is a mobile app for Hootsuite that you can use.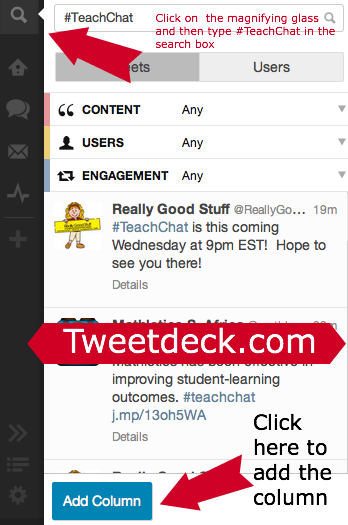 Option #3:  Tweetdeck
Similar to Hootsuite, Tweetdeck.com is another alternative.  It tends to move quicker and refresh more frequently than Hootsuite, but works in a very similar way.  It is run by Twitter, but sometimes even it gets messed up with Twitter's platform changes.  Again, you will need to set-up an account on Tweetdeck and give it permission to access your tweets before completing the following steps.
Step 1:  Sign-in to Tweetdeck.com.
Step 2:  On the left column is a magnifying glass icon.  Click on that and type in #TeachChat.  A stream of tweets will appear.
Step 3:  Click "Create Stream" at the bottom of that pop-up.  A new column will appear with all of the #TeachChat tweets.
Step 4:  To participate, click the blue button in the top left corner and type in your tweet.  You must put #TeachChat in your tweet for it to appear in the conversation.
Hints:  Tweetdeck lets you play around with how you want the tweets to appear, so take a few minutes before the chat to try different settings.  The retweet and reply buttons appear at the bottom of the tweets when you hover over them.
Option #4:  Twubs
Despite it being a slightly awkward website to say, Twubs.com is very similar to the other platform that we recommended in the past.  However, there are some slight tweaks to be aware of that can greatly impact your ability to participate and have your tweets retweeted.  Here's how to get started:
Step 1:  Go to Twubs.com.
Step 2:  On the homepage, there is a box across the top that says "enter a hashtag."  Type in TeachChat.  A new page will open that shows all of the tweets using #TeachChat.
Step 3:  NOW it is time to "Log in with Twitter" using the blue button on the bottom of the screen.  If that banner does not appear, click on "Log in" in the top right corner and select "Log in with Twitter."  It is imperative that you log in with your Twitter account and not create a new twubs account.  If you log in with a twubs account, your messages only exist on twubs and cannot be retweeted, because they are not real tweets.  So, log in with Twitter always so we can share your awesome ideas and comments.
Step 4:  Once you log in you'll be redirected back to the #TeachChat page and you will be able to comment right from there using the text box in the middle of the screen.  The best part is that it will automatically add the hashtag to your tweet so you do not have to worry about forgetting it.
Hints:  You can adjust the speed of the feed on the page by adjusting it from the "Feed Speed" button on the right side below the text box.  You can also pause the chat to catch up on tweets using the black "Pause" button.  Join the "#TeachChat Twub" by clicking on the button on the right hand column.
The chats last an hour (9-10pm EST) and are filled with great teaching tips and fun.  Our teacher community is supportive and welcoming, so even if you have never participated in a Twitter chat before, you can do this.  Need help?  Just tweet us!