Summer is upon us but that does not mean teaching has left our minds. Many teachers have one of the most important parts of a successful school year on their mind and that is classroom setup.
What will it look like? How will it function? Is flexible seating for me? How can I organize it all?
When thinking about setting up flexible seating options in your class, you need to think about your age group, classroom organization, storage and safety. Keeping these things in mind, there are endless options available to make your classroom a comfortable and "homey" place.
Here are some ideas to get your minds thinking about your future classroom!
Use things you already have! If you have tables or desks in your classroom, see if the leg extenders can be removed or lowered. This will give you an instant coffee table. Students will be able to sit on the floor or on comfy pillow while they still have a table to work on. This is a very popular way to add new seating options to your classroom.
Think comfy!
When you picture your perfect place to read, do you think of a desk or a comfy couch or hammock? Probably the latter. If you are hoping to build stamina and get students to do real reading for longer periods of time, they need to feel comfortable! Open spaces are easy to turn into a reading spots. Yoga mats are a great way to add a special reading area in your classroom. Beach mats and towels are great too and can be cleaned easily.
Storage solutions
Storing supplies and materials can be a concern when moving to a flexible seating classroom. A lot of times, students no longer have personal desks so caddies, storage bins and baskets come to the rescue! You can set up different containers with community supplies. Keep them on a shelf and students can grab them based on what they need. You can make a classroom job that revolves around keeping them stocked and organized to ensure that they stay full. If you are going to have a community supply system, make sure to let parents and students know at the beginning of the year so they are aware.
Including traditional?
Another thing to remember when setting up flexible seating is that some of your students will be most comfortable in a traditional desk. It might be a good idea to keep a few desks in your classroom to give students the option. Each year, I have a few students who enjoy the desk space and private working area. Flexible seating is about making all of your students comfortable so it is important to keep them all in mind.
Start small
Pillows and cushions are a game changer and can be used as an incentive in the classroom. If you are not ready to fully implement flexible seating in your classroom you can start small and add pillows or cushions that students can use on their chairs. You can pick up cushions here.
Make sure to keep them clean throughout the year. Pillows are great for traveling teachers, too. You can add a few to your teaching cart and make your flexible seating portable.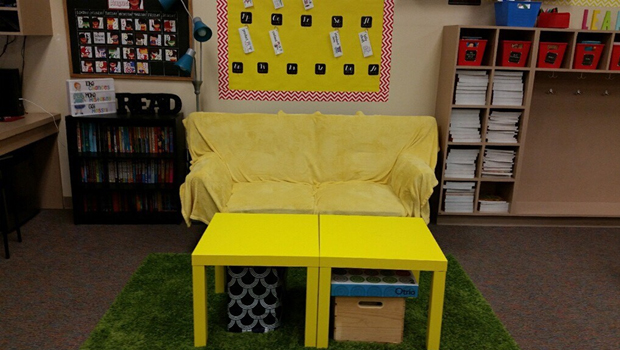 Just remember, flexible seating does not have a specific format that you have to follow. Get creative, repurpose furniture and ask your student's parents if they have anything to contribute. Some of the best items come from donations!
You will need to change up your classroom rules and expectations when you implement flexible seating! This is a very important step. You want to go over these procedures many times the first few weeks of school. Then, model, model, model. Make sure to show how you want the furniture used and do not assume that students know how to safely sit on a couch.
Now, get your creative juices flowing – you have a classroom to plan!
What is you most creative flexible seating option in your classroom?